The Hook, Line and Sinker cabins--the views are perfect with Kennedy's Peak of the Massautten Mountains behind you and the Shenandoah River in front of you! They are of the same design and style of our other larger river cabins-Angler, Drifter and Paddler
The Hook, Line and Sinker cabins are on 3.3 acres of river-front and are closer to Luray--5 1/2 miles and just 4 1/2 miles from the Outfitters.
These log cabins are nicely located if you plan to make trips to Luray, Shenandoah National Park and other sight-seeing trips out of the River area. And then just 4 1/2 miles down the road to the Outfitters for all the canoe, kayak, raft and tube activities. There is much to do in the area from horseback riding, hiking, Luray Zoo, Luray Caverns, Shenandoah National Park, Civil War museums, antique shops, restaurants, movie theater, and much more. Make your plans soon.
This set of cabins has a 5 person hot tub on the deck of each cabin! 
These 'rustic' cabins--that are any thing but 'rustic'-- have a queen size bed in the bedroom with the propane fireplace; a double bed in the loft and the futon is a double--so sleeps 6. The mini-kitchen has 2 stove top burners, sink, microwave, coffee pot and refrigerator (no oven). All the dishes and pots you will need are here. The cabins have heat and AC and Direct TV. Outside is a picnic table, a charcoal grill and fire pit for each cabin. Check out the Photo page for more interior photos. 
Perfect lodging on the Shenandoah River!
We have Calendars that show our open dates--just Click for Calendars
For reservations, call Shenandoah River Outfitters: (540) 743-4159
(800) 6CANOE2
(800) 622-6632 (8 AM to 5 PM);


Nights: (540) 743-4310 (7 PM- 10 PM)
For a brochure mail to: canoes@shenandoahriver.com


or write Shenandoah River Outfitters, 6502 S. Page Valley Rd, Luray, VA 22835




Please make reservations well in advance.




Required deposit: One half of rental fee Full payment 2 weeks in advance.




Cancellation fee--$40




Deposit is refundable up to two weeks in advance. If canceled within last 14 days, 1/2 of full payment refunded. If canceled in last week, no refund. If necessary--Damage and excessive - cleaning charge with a min of $100 charge


Check-in: After 3 PM
Check-out: 11 AM
Taxes (10.3%) not included in rates

Enjoy your stay at one of our Shenandoah River Log Cabins!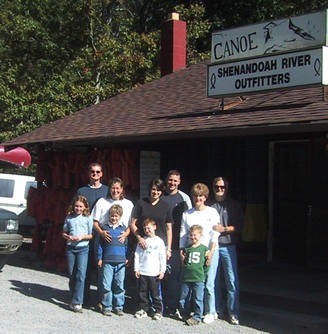 Bring the family and friends!